America has fallen in love with Tate Stevens , the newly- crowned Season 2 winner of The X Factor . And while we're all aware the country crooner has a voice that could make grown men cry, there are some things you may not know about the 37-year-old Missouri native.

1. He's Likes Fried Food and Hates Working Out!
Aside from admitting he's a sucker for southern and junk foods like gumbo, tater tots, chocolate chip cookies and anything fried, he'd prefer to abstain from exercise. "Got up and ran, it was awesome, not. Really I only like running to the fridge, HaHa.." he once tweeted.

2. He's Secretly Bad Ass
Tate once admitted to In Touch that he's a sucker for ridin' dirty! "I'm a huge motorcycle enthusiast," he confessed. "I got my 1st motorcycle when I was 5 but I just have the one now. I got out of my dirt bike phrase about 3 years ago and I ride Harleys now…. I will splurge. I am that guy. I am looking at a $25,000 Harley."

3. He's a "Faniston"
Tate admits his celebrity crush was once Catherine Bach from The Dukes of Hazard, but now he's a fan of America's sweetheart Jennifer Aniston . "She's so beautiful, she is ridiculously gorgeous," he gushed of the engaged A-lister. Don't worry, Tate...we won't tell your wife.

4. He's a Family Man
Tate married his high school sweetheart, Ashlie, in 1997, and has two children, a son and a daughter, with her. The country star dedicated several songs to his tight-knit clan while performing on The X Factor.

5. He's Got Another Name!
America knows him as Tate Stevens , but that's actually the 37-year-old's stage name. His mama (and the authorites!) know him by his biological name, Stephen Eatinger.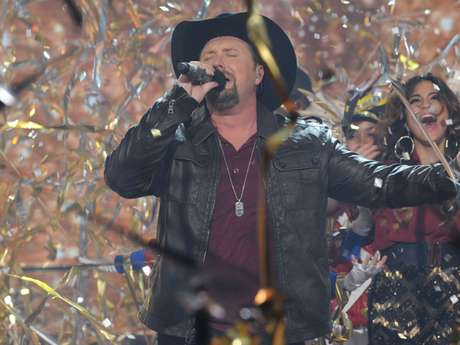 Exclusive from In Touch Weekly - All rights reserved.