He may be only one day old but Shakira 's new baby boy, Milan Piqué Mebarak, is already following in dad's footsteps!

The singer's hubby, Gerard Piqué, took to his WhoSay account yesterday to share the first photo of the couple's brand new son.

"Milan's Feet" the soccer star captioned the snapshot of his son's little limbs. And by the looks of it, baby Milan is ready to hit the soccer field with dad!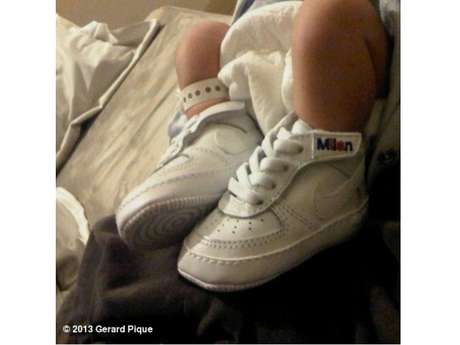 Aside from showing the world that he's already got some serious style by rocking custom-made Nike sneakers with a monogram of his name, Shakira also revealed that, "Just like his father, baby Milan became a member of FC Barcelona at birth."

The new Voice coach even shared the meaning behind her little man's moniker. "The name Milan (pronounced MEE-lahn), means dear, loving and gracious in Slavic; in Ancient Roman, eager and laborious; and in Sanskrit, unification."
We can only hope the couple will share more adorable snapshots of their new addition!

Exclusive from In Touch Weekly - All rights reserved.