OMG! Nicki Minaj is letting Steven Tyler have it…and we mean HAVE IIIITTT, ookkaaay?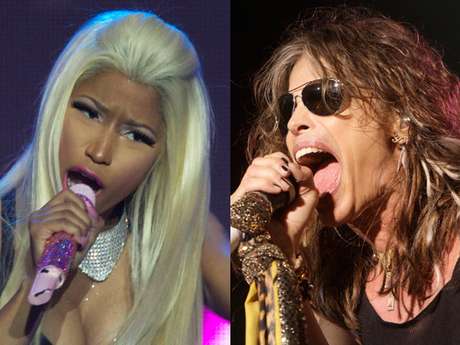 Turns out Tyler spoke to MTV News about Minaj and Mariah Carey 's feud on American Idol .
"You just have to give your opinion. It wasn't hard for me, but I would imagine it's hard for some people, and they need a manager to say, 'Shut the f--- up, and just give them your opinion,'" Steven reportedly said about the ladies' onscreen battle.
He added: "These kids, they just got out of a car from the Midwest somewhere, and they're in New York City, they're scared to death; you're not going to get the best (out of them that way) … If it was Bob Dylan, Nicki Minaj would have had him sent to the cornfield! Whereas, if it was Bob Dylan with us, we would have brought the best of him out, as we did with Phillip Phillips. Just saying."

Minaj didn't keep quiet and tweeted: "I understand you really wanted to keep your job but take that up with the producers…I haven't done anything to you. That's a racist comment. You assume that I wouldn't have liked Bob Dylan??? why? black? rapper? what? go f--- yourself and worry about yourself babe."

She then took a jab at Mariah Carey by tweeting: "LOL lets make him a shirt that says 'No Coloreds Allowed' then escort him down 2 Barbara Walters so he can tell how he was threatened w/guns."
Think Steven was being really racist or is Nicki being too sensitive? Share your opinions, below…