Megan Fox has got the goods… and the giggles!

In a hilarious, newly-released outtake from the Judd Apatow flick This is 40 the brunette bombshell loses her cool when she's felt up by Leslie Mann .

When Leslie, who plays shop owner Debbie, notices how perky her employee Desi's boobs are, she asks if she can feel for herself— and it's mid-jiggle that Megan (who plays Desi) throws her head back and erupts with laughter.

Wearing a hot pink bra and underwear, Megan is clearly comfortable wearing next-to-nothing for the cameras, adding "Yeah, I'm just young," when Leslie asks if they're real.

And Leslie was more than impressed with her co-star's chest!

In a recent interview, the actress confirmed that her co-star's ta-ta's are as awesome as they seem. "Megan just has great boobs," she admitted. 'Better boobs than I've ever seen in my life.'

Check out the hilarious outtake from This is 40 below: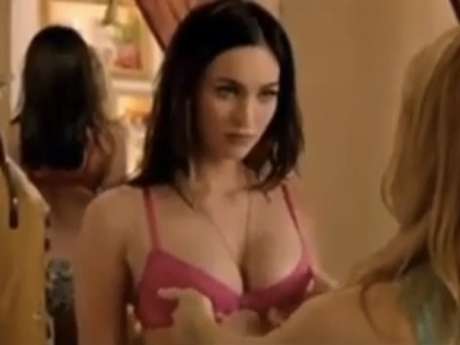 Exclusive from In Touch Weekly - All rights reserved.