The moment we've been anticipating finally arrived last night: Lindsay Lohan as Elizabeth Taylor in the Lifetime flick Liz & Dick .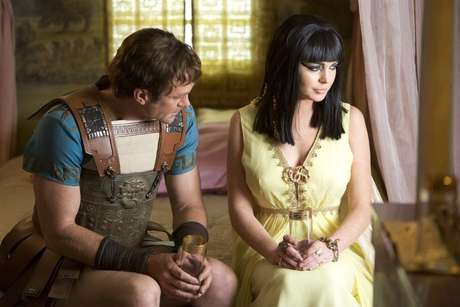 Playing opposite Grant Bowler as Richard Burton, the actress attempted to recreate one of Hollywood's most turbulent romances. But did her performance, which was being dubbed as her big "comeback," wow audiences?
For the most part, the Twitterverse did not approve.
"Lindsay Lohan had a better British accent in the parent trap and that is not a joke," model Christine Teigen tweeted.
"Just finished watching #lizanddick I couldn't take my eyes off of it. I want to wear pastels & throw vodka bottles against the wall," comedian Heather McDonald shared on the social media site.
"the plot of this movie is good. Someone should make a real movie. But this is nonsensical. # lizanddick ," user TamaraTattles wrote.
But the 26-year-old actress did have some supporters.
"As for #LizandDick… If you don't have something nice 2 say… Zip," director Adam Shankman weighed in, with actress Nia Vardalos adding, "Agreed. Lay off already."
Though the general consensus is that Lindsay did not do the role justice, the Mean Girls actress loved playing the part.
"2 get 2 feel like 1 of the most amazing women in the world was a thrill all around & wearing the jewels wasn't bad!" Lindsay tweeted.

Exclusive from Life & Style Magazine - All rights reserved.