According to Mexican newspaper, Reforma, Jenni Rivera 's remains will be cremated and her funeral services held at the Guadalupe Premier Funeral Home in San Nicolas, Nuevo Leon, Mexico.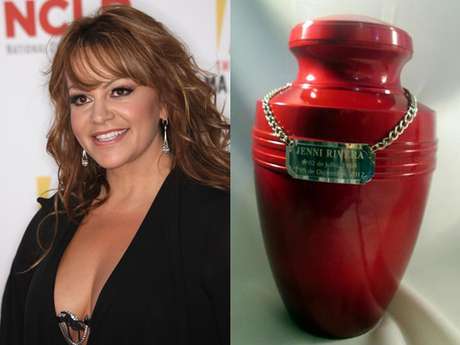 "Two days ago [Monday] the person who oversees cremation services [at the funeral home], requested a special urn, in the color that Jenni wanted. They're [Guadalupe Premier] are our customers, fortunately, we had one of these urns left," said Alejandro Hernandez , director of Urnas.com , the same company that manufactured urns for soccer players Miguel Calero and Antonio de Nigris.
He added: "The funeral home, not her [Jenni's] relatives, called us to request a bright, red colored urn."
Guadalupanos participan en procesión en honor a Jenni Rivera

Misteriosas coincidencias rodean muerte de Jenni Rivera

Surge sospecha de que Jenni Rivera fue víctima de atentado

Jenni Rivera's daughter, Chiquis: 'I miss you...love you'

The Rivera family also ordered a coffin in the same color from the funeral home.
"The urn is bronze, weighs about a kilo and a half [approximately 3.3 lbs.] and is about 30 centimeters tall," revealed Hernandez, who reportedly delivered the order, yesterday.
The piece also has a gold colored plaque with Jenni's name, date of birth and death, engraved on it.
Officials are expected to deliver Jenni's remains to her family, tomorrow.
Jenni Rivera son says mom's alive; threatens to kill person