The Rivera family entered the Gibson Amphitheatre all dressed in white except for Jenni Rivera's mother who is dressed in red.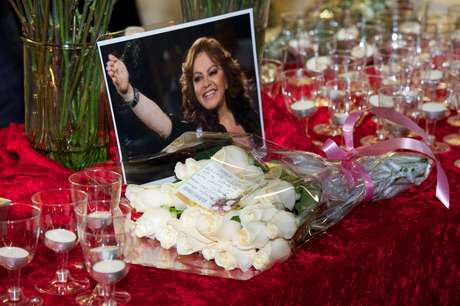 The coffin where Jenni rests is red with pink butterflies and was positioned at the center of the stage.
All of the family is set on-stage.
Jenni Rivera's daughter Jaqui and nephew sing "Tu Estas Aquí" in honor of "La Diva de la Banda."
Singers, Joan Sebastian , Marco Antonio Solis are seen in the audience at the Gibson Amphitheatre.
Jenicka Priscila Lopez , dressed in white sings "Arrebato" paying homage to her mother Jenni Rivera.
A microphone is set in front of Jenni Rivera's coffin while "Basta Ya" plays in the microphone.
All of the audience and the family stands up as this symbolic event takes place.
After the song is completed, Olga Tañon enters the stage and sings "Mirame."
A video of Jenni is shown where the singer compares herself to a butterfly. Where she says that a caterpillar transforms itself into a butterfly where it flies freely, just like herself. The intro is to "Mariposa de Barrio," a song that she wrote herself.
Dios cambio mi sufrir en felicidad, el me ha dado mi familia, mis hermanos, mis padres, mis hijos, mi nieto, a muchos grandes y muy buenos amigos. Me ha dado a mi pareja. Todos los dias le agradezo el carino tan grande que me ha dado mi publico. Me quieren porque quieren quererme y ustedes me han levantado en cada momento dificil de mi vida. Me aceptan tal y como soy, con mis virtudes y mis defectos. Muchas gracias por su cariño, por su amor.
Rosy Rivera says, "Sister, I cannot live without you." everytime that they talked about death. It has been God that has helped her through this difficult time.
"Jenni Rivera has left a huge legacy and that was God's plan. The suffering that we have today is big but it is nothing compared to the eternity that we will have with her in Heaven," Rosy says.
Pedro Rivera , Jenni's father takes the stand and says, "What an honor to say that I am your father."
Father takes the stage and sings a corrido in honor of her daughter.
"It is my honor to be Jenni Rivera's mother," Jenni's mother says as she takes the stand. She remembers a talk she had with Jenni where she asked if it was true that she didn't want to have her. Jenni's mom replied, "it was a lot of work to rise in a country that we didn't know but I said that I had heard a Preacher say that a child that come unexpectedly are blessings.
"I love you daughter and soon, or later, we will see each other face to face with the Lord. I will always love you." Doña Rosa concluded.
"I have been on a stage many times and a lot of times I have been nervous, but never like this," Lupillo Rivera said as he started to remember his sister. "A little while ago my sister gave me the best gift. She visited me when I was performing. (Lupillo takes deep breathes trying to contain himself) She got there, hugged me and told me that she loved me. That day I felt something very special, so special that I don't have any words to describe it. Jenni thank you for that gift and forgive me for crying."
"Jenni I will miss you and you will always be in my heart. I will always love you and nobody will ever match you. I love you," and a song dedicated to Jenni and her children plays because he said he couldn't sing it live.
Ana Gabriel took the stage and sang "Paloma Negra" a song that Jenni dedicated to her daughter Chiquis .
"There will never be enough words to describe my mother because she is simply the best," Jenni's daughter Chiquis said with tears in her eyes. "My mother is a woman that doesn't give up. She fights for what she wants and is a warrior in everything she does. My mom is unbreakable in every aspect and is a great honor to be her daughter.
"What gives me peace in my hear is that she doesn't suffer, she doesn't cry and doesn't need to worry about anything. She has graduated to the good life, eternal and full of magical things where the pure love only exists."
"Mom, congratulations, you have graduated to where we all want to be. I am so proud of you, but these are things I should have told you when you were here. You made me proud and if you ever doubted you were a good mother, you're the best mother. You taught me so many things." said Jacqie Melina Campos , daughter of Jenni.
Michael Marín Rivera , Jenni's son said, "Hey mom, I miss you."
Joan Sebastian paid tribute to Jenni Rivera by singing "Más allá del sol."
Banda Divina then sings "Inolvidable."
"Yo Te Agradezco" plays in the background as images of Jenni Rivera play.
Pedro Rivera Jr. took the stage with verses from the Bible.
"Que me entierren con la banda," plays after what seemed like a recruitment process to the Rivera religion.
One by one of the family members went up to Jenni Rivera to place the white rose, while the fans walk pass the coffin depositing the flowers.
In an unscheduled event, Lupillo Rivera grabbed the microphone and started singing one last song to his sister. It looked like it was tough for him as he had a couple of pauses and you could hear his voice crack at times.