A t ribute song to the victims of the 1989 Hillsborough football stadium disaster ha s taken the number one spot on Britain's Christmas pop chart.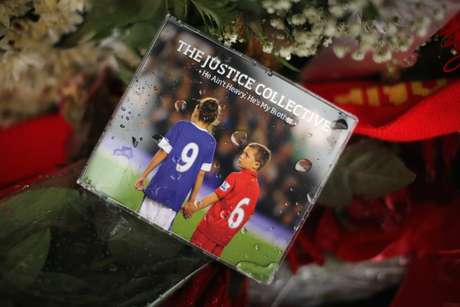 "He Ain't Heavy, He's My Brother", a v ersion of the ballad that was a worldwide hit for The Hollies, w ent to the top of the chart in its first week of release.
Money raised by the single will go to the families of the 96 Liverpool soccer fans killed in Britain's worst sporting disaster in Sheffield, northern England.
The song features performances by artists including Paul McCartney, Robbie Williams, the Clash's Mick Jones and Peter Hooton of The Farm. They came together under the name The Justice Collective.
The Official Charts Company, which compiles the weekly rundown, said on Sunday that the song beat a strong challenge from James Arthur, a newcomer who won this year's "The X-Factor", a music talent show. His single "Impossible" was last week's number one.
Relatives of those killed at Hillsborough have campaigned for 23 years to overturn official accounts of what caused the deaths. Police had blamed rowdy, drunken fans for contributing to the crush. Many of the victims were children and teenagers.
A government-backed inquiry concluded in September that police had smeared supporters to cover up their failings, helped by inaccurate media coverage.
Britain's High Court quashed the original "accidental death" inquest verdicts on December 19 and ordered a new investigation. The government also set up a new police inquiry. (Reporting by Peter Griffiths; Editing by Robin Pomeroy)
Reuters - Reuters content is the intellectual property of Thomson Reuters or its third party content providers. Any copying, republication or redistribution of Reuters content, including by framing or similar means, is expressly prohibited without the prior written consent of Thomson Reuters. All rights reserved.