Ice T may love Coco , but he's not so happy with her at the moment.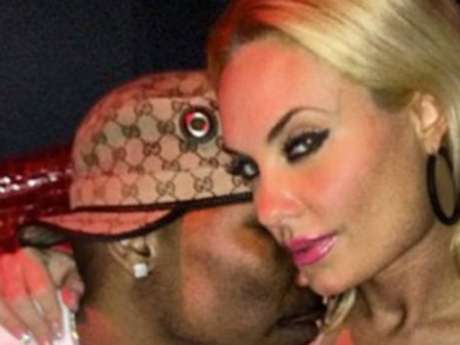 Photos of Coco have recently surfaced that show the reality star kissing, dancing with and having her neck nuzzled by rapper AP.9— and the busty blonde's husband isn't too pleased.
"Don't get it twisted, I'm not happy about this s**t," Ice T tweeted after the photos went public. "Most of [the pics are] disrespectful and in bad taste. She's made me look and feel like s**t. I say this on Twitter because there's no way to avoid the obvious misconduct of a married couple." His tweets have since been deleted, but the model continues to publicly discuss the pics.
Coco initially brushed off the snapshots, tweeting: "Woke up to people in a panic about some pics, please guys I'm happily married, sometimes fans & friends take silly pics. Its harmless. #RELAX." Soon after that was posted, it was deleted and replaced with apologetic messages instead.
"Ice is right,the pics I took with this man were in poor taste & I disrespected my husband however the pics were the only thing that happened," Coco tweeted. "I feel so sad,the bottom line is I love Ice & I can understand why he's upset theres no excuse for my actions.I'm so sorry baby & to everyone."
While Coco claims she didn't cheat on the Law and Order actor, the photos speak for themselves...and we understand why Ice T would be livid.
"Thanks for all the nice comments from dedicated fans," Coco concluded. "I am keeping positive ... #TeamIceAndCoco"
The pair, who share their personal lifes on the E! reality series "Ice Loves Coco," married in 2001 and renewed their vows last year.

Exclusive from In Touch Weekly - All rights reserved.