The X-Factor finally launched last night with a revamped panel of judges.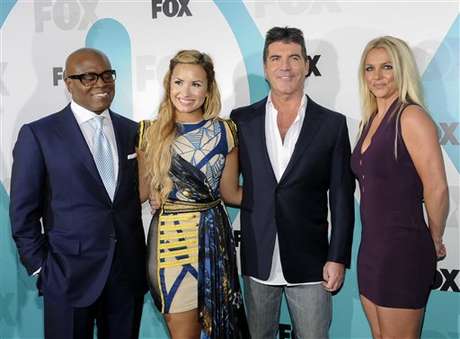 For the second season Demi Lovato and Britney Spears joined the reality show in hopes of a ratings boost. Sadly that was not the case if we go by the preliminary Nielsen ratings .
The British imported show actually was down about 3.5 million viewers from its 2011 premiere. The Wednesday showing was seen by about 8.5 million Americans.
Over on NBC 10.7 million watched a third episode of The Voice at 8pm and 11 million during the 9pm hour with the finale of America's Got Talent .
Although The Voice is in its third season and will be having two cycles a year, it seems to still be a big draw for the peacock network. Let's not forget that there's a ratings slump for that show once the chairs stop spinning. They better hope those ratings keep up with the format changes they are making.
As far as The X-Factor, it's impressive how the U.K. version is currently airing its ninth season, while Stateside, it just doesn't seem to be clicking with the audience. Could it be, with all the musical competitions currently airing ( American Idol , Duets , The Voice , The Next , The Glee Project , X-Factor ), viewers are simply oversaturated by all the amateur singers?
We wonder now what FOX thinks of the reported $15 million contract that Brit signed to be on the show.
What show do you prefer, The X-Factor or The Voice ?