The 2012 edition of the NCLR Alma Awards were held at the Pasadena Civic Auditorium in Pasadena, California, today. The one-hour special, which is set to air on Friday, September 21st at 8pm ET on NBC, featured a number of today's biggest Latin personalities including Eva Longoria, Zoe Saldana and Christina Aguilera.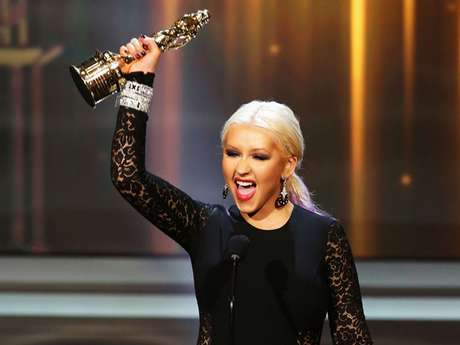 Alma Awards 2012: Fashion hits & misses
Scroll down to see a complete list of this year's winners and honorees. Are you happy with the winners and who do you think got snubbed? Tell us, below....
FAVORITE MOVIE ACTRESS-DRAMA/ADVENTURE
Zoe Saldana, Colombiana
FAVORITE TV ACTOR
Tyler Posey, Teen Wolf
FAVORITE MOVIE ACTRESS-COMEDY/MUSICAL
Aubrey Plaza, Safety Not Guaranteed
FAVORITE TV ACTRESS-COMEDY
Naya Rivera, Glee
SPECIAL ACHIEVEMENT AWARD, "THE VOICE OF A GENERATION"
Christina Aguilera
FAVORITE MOVIE ACTOR
Diego Boneta, Rock of Ages
OUTSTANDING CAREER ACHIEVEMENT AWARD
Cheech Marin, Writer
SPECIAL ACHIEVEMENT
Patricia Riggen-Director, Girl in Progress
FAVORITE FEMALE MUSIC ARTIST
Naya Rivera
FAVORITE MALE MUSIC ARTIST
Pitbull
THE NCLR ALMA RICARDO MONTALABAN LIFETIME ACHIEVEMENT AWARD
Henry Darrow
EL CENTRO DEL PUEBLO
The PepsiCo Adelante ALMA Award
*THE FOLLOWING ARE NON-TELEVISED CATEGORIES *
FAVORITE MOVIE
Girl in Progress
FAVORITE MOVIE ACTOR-SUPPORTING ROLE
Edgar Ramirez, Wrath of the Titans
FAVORITE MOVIE ACTRESS-SUPPORTING ROLE
Cierra Ramirez, Girl in Progress
FAVORITE TV ACTOR-SUPPORTING ROLE IN A DRAMA
Jon Huertas, Castle
FAVORITE TV ACTRESS-SUPPORTING ROLE
Constance Marie, Switched at Birth
FAVORITE TV ACTOR-SUPPORTING ROLE IN A COMEDY
Rico Rodriguez, Modern Family
FAVORITE TV REALITY, VARIETY, OR COMEDY PERSONALITY OR ACT
Christina Aguilera, The Voice
Alma Awards 2012: Fashion hits & misses