Carrie Fisher, who played Princess Leia in the original "Star Wars" trilogy, was briefly hospitalized due to her bipolar disorder, the actress' spokeswoman said on Tuesday after video emerged of Fisher giving an unusual stage performance.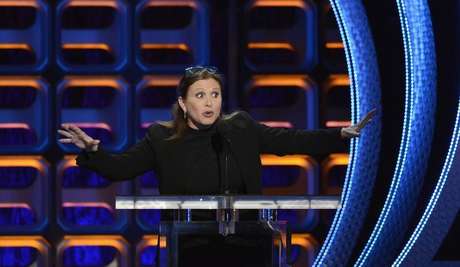 The video came from a show Fisher gave aboard a cruise ship in the Caribbean last week, according to celebrity website TMZ, which posted the clip.
The clip shows Fisher, 56, singing "Skylark" and "Bridge Over Troubled Waters," at times appearing to struggle to remember the lyrics. Fisher also appears to use paper to clean up after a small dog that shares the stage with her, and then stuffing the paper into a couch behind her.
"There was a medical incident related to Carrie Fisher's bipolar disorder," Fisher's spokeswoman Carol Marshall said in a statement. "She went to the hospital briefly to adjust her medication and is feeling much better now."
The actress has previously discussed her struggle with bipolar disorder. And in her 2009 memoir "Wishful Drinking," she also described her alcoholism and drug abuse.
Fisher is the daughter of Hollywood stars Debbie Reynolds and Eddie Fisher and, aside from starring in the first three "Star Wars" films, wrote the bestselling novel "Postcards from the Edge" about an actress recovering from drug addiction. She wrote the screenplay for a 1990 movie adaptation.
She in recent years had a recurring role on the animated comedy "Family Guy" and has guest starred in a number of other television shows.
(Reporting by Alex Dobuzinskis; Editing by Cynthia Johnston and Todd Eastham)
Reuters - Reuters content is the intellectual property of Thomson Reuters or its third party content providers. Any copying, republication or redistribution of Reuters content, including by framing or similar means, is expressly prohibited without the prior written consent of Thomson Reuters. All rights reserved.